Retro Football

Update: As of 2019-08-20, Football is now a free game
Based on my TI-83/84 plus calculator version with over 21,000 downloads.
1.03 Update: Passing Play a retro (American) football game against a computer defense. Find a friend and play together.
Run, pass (and kick) your way to the end zone
Customizable keyboard controls
Retro graphics
4 Difficulty Modes
Comments and suggestions welcome.
Screenshots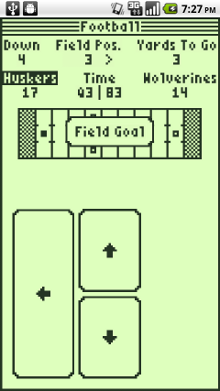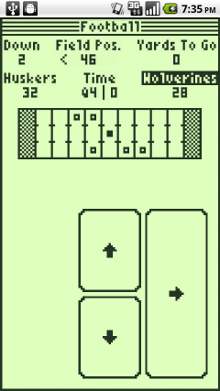 Comments
Just like the real thing. Thanks! -Mark P (10/26/2010)
I had this game years ago and i finally found it again! Its a lot of fun, but could really use the pass option from the original game -ryan (7/5/2010)
Good game. Almost like the one I used to play. You should add the pass option from the old game though. Field goal and punt are nice additions here -Steven (6/16/2010)